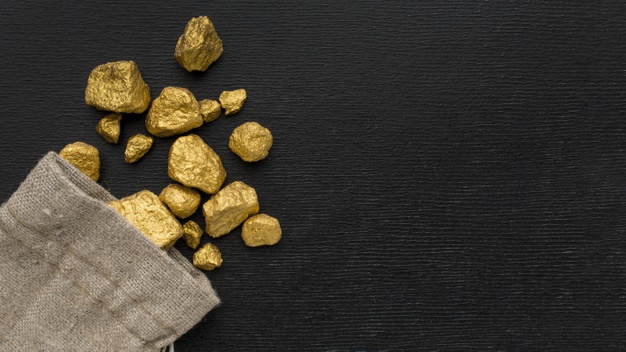 "That's the other secret of gold's success as a currency – gold is unbelievably beautiful" – Andrea Sella
There are 118 different elements in the periodic table. Of these, just one yellow metal, has the right mix that makes it a store of value.
Gold.
Gold is stable, portable, non-toxic and incredibly rare. So it's not surprising that over time, kingdoms and countries began using it as currency. Today Gold is considered as a true heirloom. This is all very well. But the question that arises today is this, Gold has now breached the Rs. 50,000 mark per 10 grams. Is it even the right time to buy Gold?
In one word, our response would be a resounding YES!
Here are 6 reasons why you absolutely must add to your holding of Gold…
1. Uncertain times certainly call for gold
Unlike the previous economic crisis, COVID – 19 has a deeper impact on the economy.
Central Banks all over the world have been printing currencies at a rapid pace. This eventually will lead to the devaluation of the currency. The current crisis is unprecedented. Governments are committing to solve it by insertion of unlimited amounts of money. This will ultimately weaken the currency. As a result, investors would find Gold as an attractive investment avenue. As the scale of the pandemic and the real extent of economic damage start to unfold. Investors are starting to seek safe-haven assets. We expect that higher risks and uncertainty will support the demand for this precious metal throughout this year.
The recent proof is Gold's remarkable performance of ~+24% in 2019. A year marked by trade tensions between the two largest economies of the world.
While this year, between January-June 2020, Gold ETFs attracted more than Rs 3,500 crore. According to Association of Mutual Funds India (AMFI), investors had withdrawn Rs 160 crore from Gold ETF in the same period last year.
2. Weak Rupee Woes
Citing weak economic growth prospects globally and the dragging growth of the Indian economy, has resulted in the Indian Rupee being Asia's worst performer this year.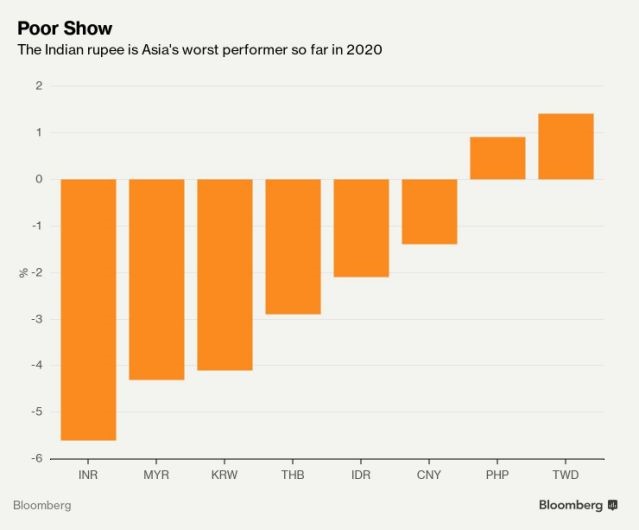 The rupee trembles as we see rising global worries affecting domestic growth. As per the International Monetary Fund (IMF) outlook in 2020 the world and Indian economy to contract by 4.9% and 4.5%. As long as people are scared of the virus. Businesses are nervous about reopening. Spending is not back to the pre-pandemic levels. And there is no respite for the rupee or for that matter any fundamental growth. A quick rebound is out of question.
This will cap gains in equities and keep the increased investment demand for gold intact.
3. A no-brainer for Portfolio Diversification
Given the new way to look at your investment portfolio. Gold allocation is more important than ever. What investors need to do is simply follow the age old advice of allocating a 10-15% to gold in their portfolio. Gold potentially plays a risk-reducing, return-enhancing role in the long term.
4. Gold metal in digital form- Sovereign Gold Bond
Sovereign Gold bond are bonds denominated in grams of gold issued by the Reserve Bank on behalf of the Government of India. The SGB provides a superior alternative compared to holding gold in physical form. The risks like theft, burglary, purity, costs of storage or loss on conversion and making charges associated with physical gold are eliminated. Investing in SGB is superior compared to Gold ETFs, as you will also be paid an interest of 2.50% (fixed rate) per year on initial investment. Interest will be credited semi-annually to your bank account. Minimum investment is one gram of gold and maximum is four kgs for individuals & HUF. You can also get a discount of Rs 50 per gram on the issue price if you apply online. Tax Deduction at Source (TDS) is not applicable to bonds though interest is taxable as per the provisions of the Income-tax Act, 1961. Nomination and loan facility are also available, overall investment in SGB is a boon for investors. SGB window is open from 28th December 2020 to 1st January 2021.
5. Meet your liquidity needs easily
Gold is a liquid asset, with a large global market and a long proven track record.
At any given point in time it's easy to find active buyers and sellers for the yellow metal. At any given point in time it's easy to find active buyers and sellers for the yellow metal. Be it institution, funds, dealers, banks or individuals. Demand for Gold is active, dependable and ever-lasting.
6. It's Never too late to Buy gold…SIP by SIP
Gold might look expensive today. Investors can always start small to diversify their portfolio with Gold. SIP are one of the smartest ways to do so.
SIPs in general have not lost their shine even as human kind faces the biggest pandemic ever. Gold SIPs will only make it easy for investors to further diversify. Investing in gold via SIP in mutual funds assures safety and purity. It ensures price efficiency as you can start an SIP with amount as low as Rs. 1000/-.
Gold available online 24 x 7.
Pandemic? Lockdown? Cyclone?? … Buying Gold from a trusted jeweler is sometimes just not possible when you want it. So for the buyers of today, here is the ultimate practical option that you have been waiting for! Investors can add Gold online to their portfolio any time of the day and any day of the week! In a matter of few clicks! With SIPs in Gold Savings Fund!
So what are you waiting for? Start investing in gold right away!
Powered by Quantum AMC