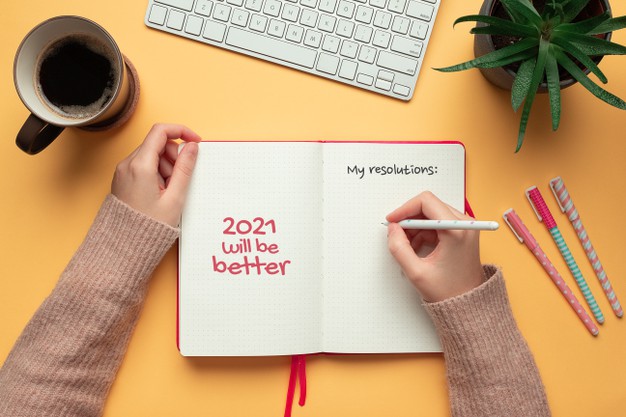 2020 – What a year it has been!!! Just as every year comes to an end, we expect the new year to be either equivalent to or better than the previous years. What we do not expect is "Change". As we grew into adults, we were constantly reminded of the fact that only "change is constant". However, we have found ways and means of evading it. The year 2020, though not a great year for all of us, has taught us to be prepared for the worst and most importantly, to be ready to accept change. The year has been an eventful one and yes, the Covid-19 that has left us in chaos, here to stay. This is something that we have to live with and this sudden change of events has taught us to focus on our health, on how to use our resources wisely, on how to invest our savings well, and also, to never give up.
As always, the New Year calls for some New Year Resolutions. But, this time, let us make resolutions that keep us prepared to face any uncertainties that could possibly arise in future. So, the five most important financial resolutions to make for the post-pandemic world of 2021 are:
1. Stay Healthy, and get yourself Life and Health Insurance 
The crisis we are facing today has taught us the importance of staying fit and healthy, by way of having healthy home-cooked food and by exercising. Also, irrespective of how young you are, it is high time that you get yourself that life insurance policy or health insurance policy for your family and yourself. The best time to get yourself these policies is when you are young as the premium is low and you also get a lot of benefits in addition to tax deductions u/s 80C, 80D, etc. Along with the corona virus, there has been news of other similar health scares and hazards, and the best way to tackle these is by getting yourself insurance. You must remember that nothing is certain. The Covid-19 has been quite successful in teaching us how important health and life insurance is.
2. Contingency Funds
The coronavirus that barged into our lives in the year 2020, led to the fall in the economy. A lot of us have suffered due to loss of employment. To add to this, the costs of hospital bills literally emptied the bank accounts of many. This is a reminder to us to have an emergency fund (that would take care of your fixed expenses like rent, school fees, utility bills, etc., for the next 4-5 months) set aside to meet any unforeseen events. For those who have just been employed as well as those who have not yet created this fund, make sure you set aside a portion of your savings towards your emergency fund right away!
3. No Debts
The best way of having stability in your finances is by clearing all your debts. This new year, make a resolution to pay off a huge chunk of your debts or clear it off if it is a small amount. Additionally, make your bill payments on time, inclusive of your credit card bills. The best way to avoid huge credit card bills is to make payments by debit cards or cash. In times of situations like unemployment, having no financial burdens by way of loans would help you sail through the crisis smoothly.
4. Stock Markets, Investments, and Diversification
Financial Planning is something that one should never postpone or sideline. The key to having some good investments lies in diversification. You could invest in mutual funds, fixed deposits, as well as the stock markets. Yes, if you are into the stock markets, the month of January 2020 would have seen you crusading on some good profits. However, the unexpected crisis in mid-March, brought the entire empire built, crashing down. But, many saw this as an opportunity to get their hands on some fundamentally strong stocks that were available at throw-away prices and are reaping the benefits in a span of 6 months. In short, the crisis has taught us to keep our emotions aside when it comes to the stock markets, cash in the profits whenever you can, and be greedy when others are fearful. For the risk-averse, get yourself investments in mutual fund SIPs, NPS, PPF, Gold ETFs, etc., and in case of doubt, always seek the advice of professional experts. The year 2020 has taught us that, " There is a silver lining in every dark cloud".
5. Make a Few Important Cuts
Prior to the Covid-19, we had no limits on meeting our whims and fancies – be it dining at exquisite restaurants, splurging on vacations, shopping for fancy clothes and apparel, etc. During the last 7-8 months of working from home, we have learned the art of saving by cooking everything possible at home, by not purchasing unwanted apparel, etc. If there's something we have learned during these tough times, it is saving. Dining out at all times is not just unhealthy but can be an expensive affair and by cutting down on these simple things, we end up saving a lot – our health and our money. You must have realized that you do not miss these things at all! So, why not make these little cuts permanent?
To sum it up, the year 2020 has taken us all on a roller-coaster ride and it has taught us to be grateful for being surrounded by friends, families, good health, good food, and beautiful nature, which we had taken for granted. May the year 2021 bring you good health, wealth, and lots of positivity!