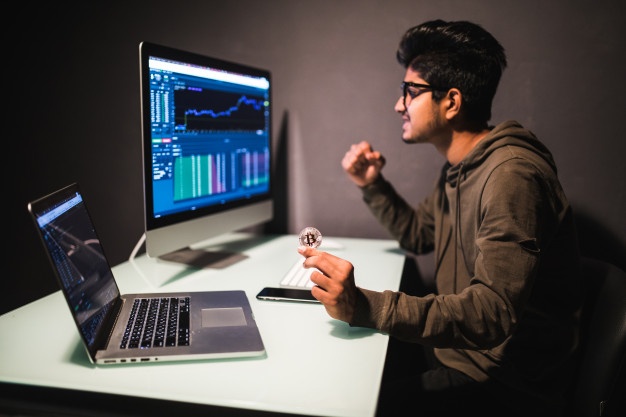 Bitcoins! Crypto Assets! These terms are quite popular and all over the news these days. If we are to look into some of the recent news, Indian retail investors have already invested about 6.6 billion dollars in crypto assets! Furthermore, this is expected to grow about 2X times faster. It also has the potential of creating about 8 lac or more jobs by the year 2030!
So what is this rage all about? Bitcoins are a type of decentralized digital currency, which means, that it can be exchanged between users without being managed by any central bank or authority. In short, it is a type of cryptocurrency. So, this brings us to the next question – "What is cryptocurrency?". This article will give you all the information you need to know about cryptocurrency and how one can invest in them.
Cryptocurrency – Meaning
The cryptocurrency concept is spreading far and wide. The reason behinds its popularity is that it is totally a digital currency, they aren't being controlled by any kind of government body, and all the transactions remain private. Some of the most popular cryptocurrencies are Bitcoins, Dogecoin, Ethereum, XRP, Tether, and Cardano, along with a few underdogs such as Aqua Pig, Gravitoken, Contracoin, Sishi Finance, and Infinity Cake. Let's get into a little more detail about cryptocurrencies.
History
The foundation of cryptocurrency goes all the way back to the '80s when the "blinding algorithm" was invented by David Chaum, an American cryptographer. Cryptocurrency's technical foundations date back to the early 1980s when an American cryptographer named David Chaum invented a "blinding" algorithm that still is the central point in today's web-based encryption. This algorithm ensured that information exchanged between the parties was secure and unalterable, thereby becoming the base for electronic currency transfer in the future.
The first cryptocurrency to be used publicly is none other than the "Bitcoin", which was outlined in the year 2008 by a pseudonymous person/group by the name Satoshi Nakamoto, and was released to the public in 2009. So, by the end of 2010, there were a lot of alternatives such as Litecoin. Also, the first Bitcoin exchange appeared around the same time. In the year 2012, one of the first merchants to start accepting Bitcoin payments was WordPress and a lot of others followed the trend in the following years.
Cryptocurrencies – Are they Good as Investments? How can one invest?
Any type of investment comes with its set of pros and cons. Cryptocurrency, as an investment, might appear risky to some and profitable to few others. Let's have a look at its pros and cons, which might ease your decision to invest or not.
Pros:
It is a digital currency and can be used to make transactions worldwide without paying huge fees
An investment in Cryptocurrency could help in portfolio diversification
The transactions are private and not monitored by any central agency
There is no middle-man
Cons:
These exchanges are quite vulnerable and security breaches are possible which could lead to losses.
Price volatility is another major concern
It is still undergoing the development process and faces scalability issues.
If you are interested in investing in cryptocurrencies, a digital wallet is an essential requirement. An account can be created on an exchange, wherein the digital wallet can be chosen and this is where the cryptocurrencies get credited, once you transfer real money.
However, bear in mind that one must be cautious and patient to benefit from the success of such an investment in the long run.
Cryptocurrencies in India – Are they Illegal?
In India, as of now, they aren't illegal. In the year 2018, there was a notification issued by the RBI banning the use of cryptocurrencies as legal tender by banks. However, in March 2020, the use of cryptocurrencies and virtual currencies was permitted by the Supreme Court of India. Post this order, the previous RBI notification was withdrawn.
As quoted by RBI – "In view of the order of the Supreme Court, the circular is no longer valid from the date of the Supreme Court judgment, and therefore cannot be cited or quoted from,". "It has come to our attention through media reports that certain banks and regulated entities have cautioned their customers against dealing in virtual currencies by making a reference to the RBI circular dated April 8, 2018,". "Such references to the RBI circular by banks and regulated entities are not in order as this circular was set aside by the Supreme Court on March 4, 2020, in the matter of writ petition (Civil) No.528 of 2018 (Internet and Mobile Association of India vs Reserve Bank of India),". This has offered tremendous relief to all those who have been trading in cryptocurrencies such as Ethereum, Bitcoin, etc.
Conclusion
For any newbie in the world of investments, the thought of investing in "cryptocurrencies" could be quite intimidating. Understanding the concept, the terminology, and the process of investing in cryptocurrencies would require a lot of research, patience, and the ability to bear the risk. As an investor, one could always begin with understanding the various investment options available and opt for those that suit your goals,  risk appetite, and financial stability. Once this is sorted, and when you begin to consider portfolio diversification, cryptocurrencies could be a good option. However, be certain that you are familiar with the concept, the process, its pros, and its cons. Cryptocurrencies are moving up the popularity ladder due to the currency being completely digital, the transactions being private and decentralized control. The millennials definitely love cryptocurrencies as all it needs is a "click"! To sum it up, make sure you have your research done, are patient, persistent, and willing to take the risk, if you intend to invest in this digital currency.